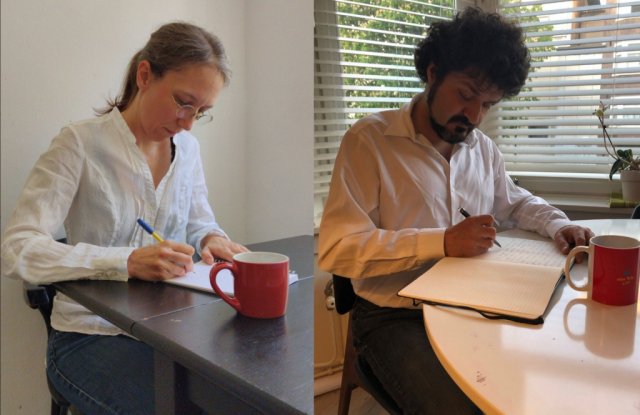 It has been an intense six weeks, to say the least.
I went through my archives several times in the last one and a half months, in reminiscence of times that seem out of reach at the moment. Music is interaction, even more so improvised music. I felt a strong longing to interact with fellow musicians.
I love what some musical groups are putting together now under exceptional conditions. Some recordings are done really really well. Orchestra or band productions might sound so convincing, you would not believe they were recorded in seperate rooms at seperate times of the day etc. Musicians are very good at reproducing performances.
In fact, my arts teacher at school used to bitch about how musicians only reproduce and don't dare to just play. He had a point in a way, unfortunately his personality and his love for liquor did not make him a very compassionate human being, let alone receptive to criticism.
Where was I?
Musicians are good at reproducing. In particular reproducing as a manual act of craftsmanship. Take the blending of a good orchestra or band: over time, the musicians will learn what their neighbours do, how they tune in, how exactly the attack of the people around them starts, so that it sounds as if one person is playing a chord, even though two, three, eight, ten, twenty or fifty people are. Or take the timing of a good band: musicians will learn what articulation works best when playing in rhythmic or melodic unison with certain instruments, which parts of the piece are to be played laid back, which parts on or in front of the beat. How to glory in the climax. Which notes to bend or play broader, which ones to anticipate.
We all learn these crafts in our daily work, fitting ourselves into a giant mosaic of musical fractions compiled of the information we and our fellow musicians create. Sometimes making space for the voice of others, sometimes making ourselves heard.
Does this limit the capacity to interpret and create? I would say it might. But in the best of circumstances, it allows us to zoom in, only to find yet another universe of fractions within a piece. Kind of like The Sierpinski Triangle. And right now, this skill is what makes it possible for recordings to sound live, alive even, because people are reproducing what they have worked on, over and over and over again.
Despite the amazing end product and the fun process, there is something missing, beyond musical terms. Just like a video-conference or a phone call is not the same thing as having a conversation, recording music to a pilot track is not the same thing as developing music together. Nothing tops the intimacy of human connection.
As I was digging through my archives, I rediscovered a live recording of a concert from last fall, the last public concert Oğuz and I played at the radio station in Vienna. There it was: the spark of immediate, instantaneous interaction.
With the generous support of Ö1 Musikredaktion, and in celebration of the intimacy of live improvisation, we will be releasing the EP "live at RadioKulturhaus" on May 1st. We chose to make it pay as you wish, in recognition of the economic difficulties some of us are experiencing. If you feel like you can give more, please do. In any case, enjoy the music! Along with the release of this EP, we will release some video footage from a concert in 2018, so lots of good things coming your way!
#jazz #mywork #improvisation #chambermusic #intimacy #instantcomposing #contemporarymusic