Our album Mind Like Water will be available from 22nd of March. Woohoo! This is the cover front: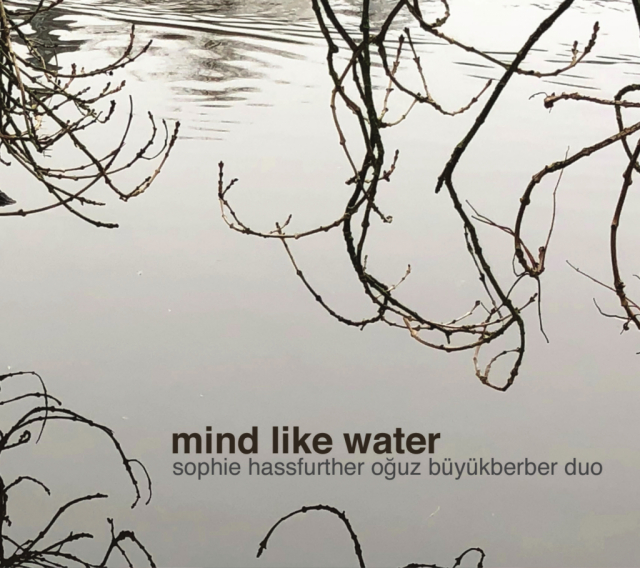 We had a few difficulties with the cover. Last minute obstacles make me very nervous. I ordered a few days later than I had expected, but hey!
In my last blog post, I described how the titles for this album came together and how they relate to Shakespeare, Buddhism and human communication. Now I want to tell you how this duo came into being:
Oğuz and I go back a long time. It is hard to say when exactly we first met, because it feels like he has always been around. It must have been some time in late 2000. We were both studying at the Conservatory of Amsterdam and hung out frequently. We went to the same concerts, played in the same bands. One of his compositions on the CD – Dağ – dates back to that time.
We shared the same interests and hung out and played concerts together. When I moved back to Vienna it became harder to stay in contact. Nevertheless we continued playing in several projects recorded a quartet CD together, and in 2012 Oguz invited me to be part in his Bimhuis carte blanche concert in Amsterdam.
In the meantime, life happened and it was June 2016 when we started this duo. At the same time Cafe Kurkuma opened its doors and quickly became a favorite hot-spot in Hallein. A place for the growing group of art and music interested, for young families, for coffee lovers. We were delighted to be part of the opening. What started as an experimental journey into playing duo among old friends turned out as a very colorful new ensemble project.
Another two years passed before we even played the next gig, but there was lots of writing music and getting together to rehearse and experiment in the meantime. I love the process of writing my own music, rehearsing it, adjusting things here and there, developing ideas, until finally there is a version that I like enough to consider a composition. I wrote most of my contribution to the music on the CD during those two years.
In June 2018 we played a concert at Salon Goldschlag. Martina and Uwe are graphic designers and organize a small series of music in a semi-private setting. They also host exhibitions several times a year. If you come to Vienna go check them out!

The next day we went to Hallein to record for two days, one day in an old industry building called Alte Schmiede, the second day live at Café Kurkuma. Nine months later, Mind Like Water will finally be available On March 22nd! The wonderful filmmaker Nicole Baïer documented our recording on video. I will release snippets from that footage once the album is out. For now, another tune, it is called Clarinet Song.
Sophie Hassfurther: tenor sax
Oğuz Büyükberber: bass clarinet
#workinprogress #mindlikewater #music #jazz #mywork #zen #Shakespeare #communication #amsterdam #vienna
If you want to stay up to date, you might consider subscribing to my third-party-tracker-free newsletter by using the contact form on my website.
This post and all comments will also appear on my personal blog.